Siegerteam der Mixed Match Challenge erhällt großen Royal Rumble Vorteil / Aktuelle Punkteübersicht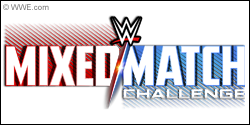 Die aktuelle "Mixed Match Challenge" bekommt eine reizvolle Stipulation, dies gab WWE heute auf ihrer Website offiziell bekannt. So werden die Gewinner der diesjährigen Staffel, also das siegreiche Team bestehend aus einem Mann und einer Frau, an ihrem jeweiligen Royal Rumble Match beim gleichnamigen Pay-Per-View antreten. Und zwar jeweils mit der Einzugsnummer 30!
Die vier Teams, die aktuell noch ungeschlagen sind, werden diese Woche aufeinandertreffen. So treffen im RAW-Match Ember Moon & Braun Strowman auf Mickie James & Bobby Lashley und Asuka & The Miz auf Charlotte Flair & AJ Styles im SmackDown-Match. Asuka & The Miz waren übrigens die Gewinner von Staffel 1.
Hier die aktuellen Punktezwischenstände:
RAW:
Ember Moon & Braun Strowman (3-0)
Mickie James & Bobby Lashley (3-0)
Bayley & Finn Balor (2-2)
Alicia Fox & Jinder Mahal (0-3)
Natalya & Bobby Roode (0-3)
SmackDown:
Asuka & The Miz (3-0)
Charlotte Flair & AJ Styles (3-0)
Naomi & Jimmy Uso (2-2)
Carmella & R-Truth (0-3)
Lana & Rusev (0-3)
(Quelle: f4wonline)
8