wXw "Road to 19th Anniversary" Results, vom 29.11.2019 (Hamburg)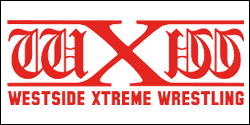 wXw – westside Xtreme wrestling
"Road to 19th Anniversary"
29.11.2019 – Markthalle, Hamburg, Deutschland (Zuschauer: 525)
Warmp-Up Match
Vincent Heisenberg besiegt "Goldenboy" Santos in 4'13 via Pinfall nach dem Ore Ga Taue.
6 Man Tag Team Match
Oliver Carter & wXw Tag Team Champions The Pretty Bastards (Maggot & Prince Ahura) besiegen Avalanche & Vollgasteren (Julian Pace & Leon van Gasteren) in 15'37" via Pinfall nach dem Red Light Driver der Bastards kombiniert mit dem Lionsaul0t von Carter.
Killer Kelly besiegt Skye Smitson in 5'35" via Pinfall nach dem Vale Da Morte.
Tag Team Match
Jurn Simmons & The Rotation vs. Alexander James & Tyler Colton endete nach 17'18" mit einer doppelten Disqualifikation, nachdem Simmons und James gleichzeitig dem Kendo Stick gegen den jeweiligen Gegner einsetzten.
Lucky Kid besiegt Pete Bouncer in 12'32" via Referee Stoppage, nachdem Bouncer im Lucky Lock bewusstlos wurde.
3-Way-Dance
wXw Women's Championship
Amale (c) besiegt Little Miss Roxxy und Valkyrie in 7'50" via Pinfall. Sie profitierte davon, dass Valkyrie ihre Death Note gegen Roxxy durch bringen konnte und konnte, nachdem sie Valkyrie aus dem Ring warf den Sieg abstauben.
Bobby Gunns besiegt Alexander Wolfe in 16'59" via Pinfall nach der Emerald Fusion.
wXw Unified World Wrestling Championship
Timothy Thatcher (c) besiegt David Starr in 13'38" via Pinfall nach dem Seatbelt Cradle.
(Quelle: wXw Europe GmbH)
8