WWE: Vince McMahon tritt als CEO & Geschäftsführer zurück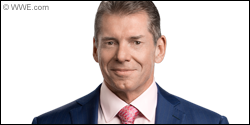 Nach den letzten Entwicklungen rundum den Schweigegeldskandal, in den der CEO & Geschäftsführer von WWE, Vince McMahon, verwickelt sein soll, wurde nun bekanntgegeben, dass jener von seinen Posten beim Marktführer zurücktreten werde.
Bombenschlag am heutigen Nachmittag. Wir berichteten erst heute Mittag von den jüngsten Vorwürfen gegen McMahon, kurz darauf kam die nächste Nachricht, dass jener nun zurückgetreten sei, wo doch der Wrestling Observer berichtete, dass es unwahrscheinlich sei, dass McMahon den Posten räume. Den muss noch erstmal Stephanie McMahon als Interimschefin einnehmen, so lange die Untersuchungen andauern. Ihre Abstinenz ist damit erstmal Geschichte.
Sein nun angekündigter Rücktritt beinhaltet erstmal nur die Streichung seiner Position. Allerdings wird berichtet, dass McMahon "seine Rolle und Verantwortung in Bezug auf die Inhalte von WWE während dieser Zeit behält."
Stephanie McMahon hat heute Morgen folgendes über Twitter geschrieben:
Until the conclusion of the investigation into recent allegations, I am honored to assume the role of interim Chairwoman & CEO. I love @WWE and all it continues to do to entertain billions around the world. https://t.co/E2MushpoSG

— Stephanie McMahon (@StephMcMahon) June 17, 2022
Offiziell könnte man also behaupten, dass McMahon aktuell, so lange die Untersuchungen laufen, zurückgetreten ist. Sollten sich die Vorwürfe als falsch ausweisen, könnte er den Betrieb wieder übernehmen. Andernfalls kann es auch bei einem Rücktritt bleiben.
Quelle: f4wonline / Twitter