wXw "#WrestlingDeutschland" Results, vom 09.03.2019 (Oberhausen)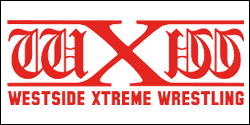 wXw – westside Xtreme wrestling
"#WrestlingDeutschland"
09.03.2019 – Steffy, Oberhausen, Deutschland (Zuschauer: 390)
Battle Royal
Sieger: Lukas Robinson in 6'59"
wXw Wrestling Academy / 6 Man Tag Team Match
Vinny Vortex, The Rotation & Norman Harras besiegen Timo Theiss, Levaniel und Bailey Matthews in 9'33 via Pinfall nach der Emerald Fusion von Vortex an Theiss.
Next Step Wrestling
Laurance Roman (c) besiegt Ronny Kessler in 6'30" via Pinfall nach dem Frog Splash.
Mad Wrestling Association – 3 Way Dance
Fynn Freyhardt besiegt Nickolas Kluth und Crowchester via Pinfall nach der Rydeen Bomb an Kluth.
German Wrestling Promotion – Mixed Tag Team Match
Keesa the Bambi & Chase Jenkins besiegen Bruder Chaos & Xara Grace in 4.35" via Pinfall nach einem Moonsault von Jenkins an Bruder Chaos.
Championship of Wrestling
Blackwell besiegt Jester in 4'26" via Pinfall nach einem Schlag mit einem Schlagring.
German Hurricane Wrestling – Tag Team Match
Pretty Bastards (Prince Ahura & Maggot) besiegen Keel Holding (Michael Isotov & Sadistico) in 5'50" via Pinfall nach dem Ace Crusher.
Wrestling Kult
WrestlingKult Championship
John 'Bad Bones' Klinger (c) besiegt Carnage in 10'30" via Pinfall nach einem Schoolboy.
(Quelle: wXw Europe GmbH)
8