WWE "SmackDown Live" Results, vom 23.07.2019 (Miami, Florida)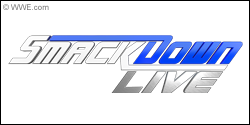 WWE – World Wrestling Entertainment
"SmackDown Live"
23.07.2019 – Miami, Florida, USA
match better, McMahon announced McIntyre as guest referee, Elias as guest timekeeper and himself as the guest ring announcer.
Non-Title Match
Intercontinental Champion Shinsuke Nakamura besiegt Apollo Crews via Kinshasa.
Miz TV (Gast: Shawn Michaels)
Ember Moon besiegt Charlotte Flair via Roll-Up.
WWE Champion Kofi Kingston fordert Randy Orton zu einem Titelmatch beim "SummerSlam" heraus. Orton aktzeptiert.
Non-Title Match
WWE Champion Kofi Kingston besiegt Samoa Joe via DQ, nachdem Randy Orton ins Match eingreift und versucht Kingston einen RKO zu verpassen.
Finn Balor fordert Bray Wyatt zu einem Match beim "SummerSlam" heraus. Wyatt aktzeptiert.
Guest Referee: Drew McIntyre | Guest Timekeeper: Elias | Guest Ring Announcer: Shane McMahon
Kevin Owens vs. Roman Reigns endet in einem No Contest, nachdem die Gäste ins Match eingriffen. Schließlich verpasst Owens McIntyre und Elias jeweils einen Superkick und Reigns fertigt McMahon mit Superman Punch ab, gefolgt von zwei Stunner von Owens.
(Quelle: f4wonline)
8